Morning Bicycle Trip Jaipur
Cycle to Heritage morning tour is one of our best activities in Jaipur, Discover Jaipur on a bicycle traverling through the narrow lanes of the old city. Biking and unraveling the secrets that this historic city beholds. An interesting way to explore the ancient culture and architecture of Jaipur on a bicycle.
Theme :- Your bicycle tour is designed to give you a traditional perspective of how the morning time develops in the beautiful city of Jaipur.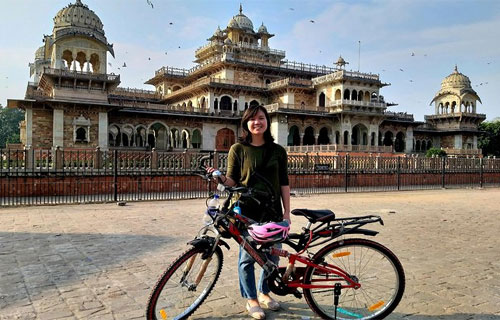 Things To Do during Jaipur Bicycle Tour
For food lovers :- Experience the Jaipur's Best food Joints like a local, ride your bike to some of most sought after and highly acclaimed food joints. The food outlets are handpicked for your city ride to provide you the much required energy for the morning bicycle tour of the old pink city.

For The Wanderlust :- Hop on a bike and maneuver the streets like a Jaipurite through the old Havelis and sacred Temples within the streets of walled city of Jaipur. Participate in the morning prayers with the devotees in the temples.

A Unique Experience :- An adventurous Sightseeing of Jaipur where you discover what one might miss out while in the car. We get a chance to start the day like a Jaipurite does every morning.